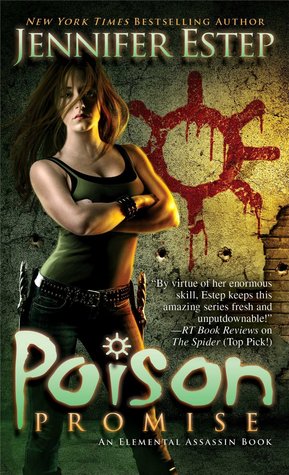 Poison Promise by Jennifer Estep
Series: Elemental Assassin #11
Rating:
Published
July 22nd 2014 by Pocket Books
Genres:
Paranormal, Urban Fantasy
Format:
eARC
Length:
400 pages
Source:
NetGalley
In book eleven of her New York Times bestselling Elemental Assassin series, author Jennifer Estep continues "one of the best urban fantasy series going on the market" (Fresh Fiction).

Gin Blanco is hard-nosed, sexy, and lethal. Nicknamed "The Spider," she's a stone elemental assassin who brings her unique mix of magic and tact to every assignment, no matter the target.

There's a new drug on the streets of Ashland, and its name "Burn" sums up the potent effect it has on its users. When one of her restaurant employees is threatened by dealers of the drug, Gin steps in to set things straight…
This series is my guilty pleasure. Gin always makes me hungry with her excellent food and her life is right now is quiet. I follow this series for awhile now and there's never a quiet moment, so when things became normal I was so ready for the explosion.
I didn't enjoyed the way Bria treated Gin and blamed her for pretty much everything that ever goes wrong. She's a big and know that the world is not simple and cute full of butterflies. Ashland is made of evil people bossing around. She wanted to make things right without thinking about consequences, so me she deserved to suffer a little more and understand that life is not some make believe of right and wrong.
Gin was brilliant as always and made sure to put an end on everything. She was hurt and drugged, but she saved her sister life. She made a new enemy and even got some new friends along the way. In the end we can see that everything was planned and Gin had to follow just to stay alive. But I liked the new path this series is planning for the future book.
Other books in this series
#0.5 – Poison
#0.6 – Web of Deceit
#0.7 –
Spider's Bargain
#1 –
Spider's Bite
#1.5 – Web of Death
#2 –
Web of Lies
#2.5 – Wasted
#3 – Venom
#3.5 – Tangled Dreams
#3.6 – Tangled Schemes
#4 – Tangled Threads
#4.5 – Spider's Nemesis
#5 – Spider's Revenge
#5.5 – Thread of Death
#6 – By a Thread
#7 – Widow's Web
#8 – Deadly Sting
#8.2 - Carniepunk: Parlor Tricks
#8.5 - Kiss of Venom
#9 – Heart of Venom
#10 – The Spider
#11 - Poison Promise
#12 - Black Widow
I received this book from NetGalley and Pocket Books in exchange for an honest review. This does not affect my opinion of the book or the content of my review.